I-View® Rig Monitoring & Reporting, F.I.R.M.S.® Modular Component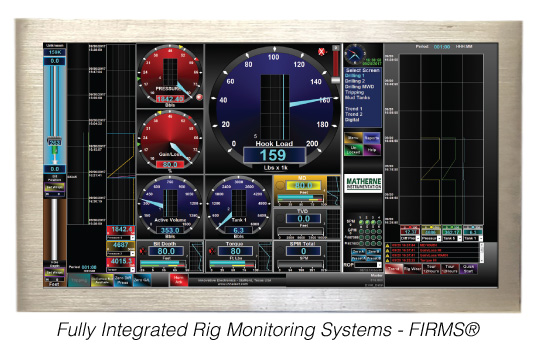 Easily Configurable Gauges, Alarms, Charts and Variables
Built in Electronic Drilling Recorder
Historical Data Logger
Multiple Servers
Remote Access and Reporting
Internet Data Transfer
Built-in Help Screens
Remote Online Support
User Selectable Languages
I-View Systems are Available with ATEX Certification
The I-View system is a configurable, real-time, multi-station, multi-screen rig data logging and display system. Receiving drilling information from the I-DAQ, MODBUS or other sources, I-View gauges, charts, alarms and other parameters can be configured by the operator to display and store timely information about rig operations. This allows the operator to identify many possible drilling problems including, flow deviations, pressure changes, drilling breaks, etc. Each I-View screen contains analog and digital gauges, graphs and mimics that display critical information that can be easily understood. The log screens can display current trending conditions, or historical information. The I-View system is TCP/IP based and can share drilling information with local and/or remote off-site locations. It also supports password-protected "Thin Clients" which allows any browser equipped computer to display drilling screens anywhere in the world where there is an Internet connection. The I-View system can have multiple independent Servers, each of which can be configured independently. Multiple Server systems can be configured to maintain a self-healing database between Servers. The I-View is WITS capable for up to two users simultaneously. There are 4 programmable "sum" and "difference" channels. A "difference" channel could, for example, be programmed to show the difference between temperature in and temperature out. The 16 pen electronic report can be configured to display and print the history of any stored parameters, from any historical time or date. All I-DAQ functions are accomplished using the I-DAQ screens. No laptop or other device is required to set channelzero, span, smoothing, gear ratios or other rig parameters. The I-DAQ "Home" screen continuously displays all monitored variables even if all TCP/IP connections are lost.
Easy to Use
Rig personnel are constantly changing and there is often little time to train new personnel. Because I-View contains many help screens and configuration applets, rig personnel can learn the system quickly, on their own, minimizing training time.
I-View configuration screens have detailed notes explaining methods and details to quickly accomplish tasks. For example, the screen on the left provides guidance on how to access various gauge functions. The applet shown on the right is used to configure analog gauge properties.
I-View can accept MODBUS inputs from other systems, for example from a hydraulic drilling rig package or a gas detector system. I-View is WITS enabled. I-View systems are designed to be installed and commissioned by rig personnel. Our customers all over the world have reduced installation costs by successfully installing these systems. For simpler systems see our 9000 Series Instrumentation.